Posted on
By Nancy Wiskel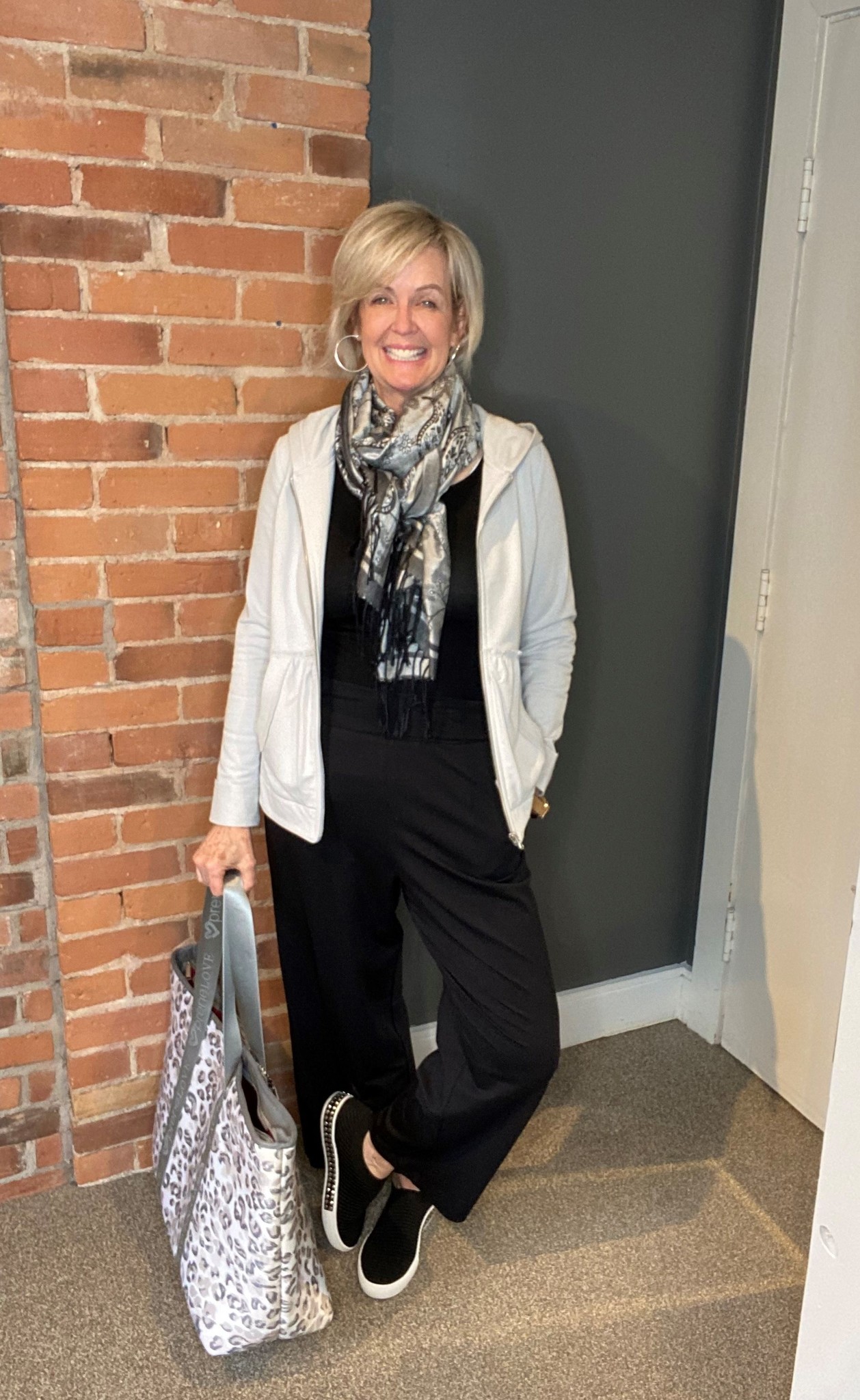 When you spend any amount of time on a train, plane or automobile, you want to be comfortable. Here are my suggestions to make your trip more comfortable.
Experienced fliers know that it takes a combination of factors to have a good travel experience. Comfort plays a large role in making travel pleasurable, which is why the best travel clothes should not be left as a last-minute thought.
Key travel pieces tend to be wrinkle-resistant as well as can take a spill kindly. The best travel clothes won't slow you down in the airport or make you shift uncomfortably in your cabin seat.
You also need to have pieces that you can easily take off or put on. These practical items help combat the different temperatures you encounter throughout your journey, as well as making an easier time of going through security.
With this groundwork in place, let's take a look at my choices for some essential travel pieces.
Jacket/Blazer  - This outerwear piece is the quickest way to look chic and makes it easy to conceal your casual wear underneath.  I really like taking a denim jacket with me, as it pairs as easily with a dress as it does with shorts.  A classic blazer will also never be a wrong choice.
Long Cardigan or Pullover – Many flights involve sitting for long periods of time (these days that also needs to include sitting on the tarmac). A long cardigan or pullover will give you the warmth that you need as temperatures fluctuation.
Scarf or pashmina – I never fly without a scarf as it has so much functionality. I use scarves or pashminas as a scarf, wrap, pillow, blanket and have even rolled it up and used it as lumbar support. Of course, the cherry on top, is that it will also give you a chic look. The weight of the scarf that I use will depend on where my final destination is.
Layering t-shirt – whether you opt for short sleeves or long, a t-shirt is so easy to throw on underneath a bulkier top or sweater. Layering on a plane is key, as once again, it helps with fluctuating temperatures, especially if you are travelling from a cold to warm/hot climate.
Pants with some stretch. This piece, above all, you want to make sure that they are very comfortable unless you want to constantly be shifting in your seat. A knit cotton or jersey fabric are my top choices as is a relaxed waistband (pull-on or fully or partially elasticized).
Comfortable shoes – preferably slip-on. This is my key piece to make going through security less cumbersome. A stylish slip-on shoe makes going through security a breeze. This how I first fell in love with Bernie Mev's – they were (and are) my number one 'go-to' shoe for travel. They look good, are comfortable, but most importantly, can be slipped on & off in the blink of an eye. Don't forget that feet tend to swell during long-haul flights, so choose your foot apparel wisely.
The great thing about the above list;  all these items will also work well for you for your entire trip.
Happy travels!